We Are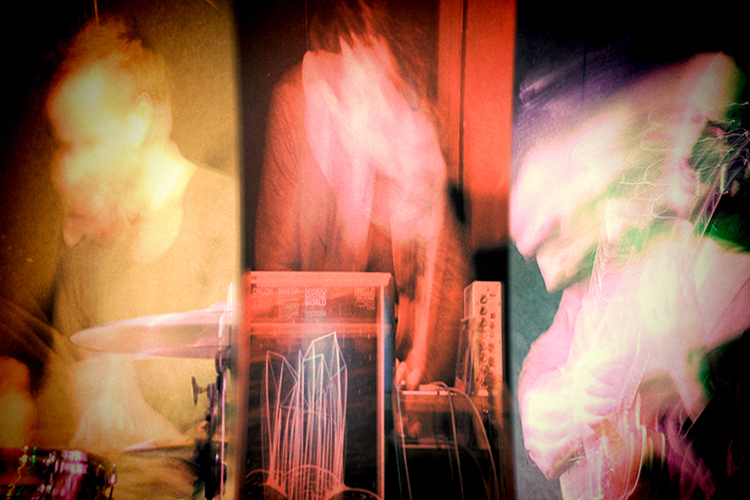 Acre is an improvisation-based trio, working on forms, images and places of music and listening. The group's sound is made up of some recognizable music influences, and focuses on the way these influences are dealt with, letting them "interfere": the impro praxis, the real time elaboration of synthetic sounds, the timbre and sign research borrowed by educated western music. Rooting in these ground coordinates, the group's "free game" stays open to continuous new modulations and configurations. Among the group's targets, the work on a unitarian sound dimension, able to melt and blend together the timbres of the different instruments (laptop, guitar, drums) in a new synthesis, making their single "voices" undistinguishable: the sounds' source stays uncertain and doubtful when attempting to isolate it from the net it is knitted in.
…woods, transistors, binary system

Ermanno Baron – drums, objects
Ginomaria Boschi – guitar, effects
Marco "uBiK" Bonini – laptop, tapes and theremin
Acre lavora su forme, figure e luoghi della musica e dell'ascolto. Il suono del gruppo è costituito da alcune riconoscibili influenze musicali e dal modo in cui queste vengono messe in gioco e lasciate "interferire": la pratica dell'improvvisazione, l'elaborazione in tempo reale dei suoni sintetici, la ricerca timbrica e gestuale mutuata dalla musica "colta" occidentale. Attraverso queste coordinate di riferimento il "libero gioco" del gruppo resta sempre aperto a nuove modulazioni e configurazioni. Uno degli obiettivi del gruppo è quello di lavorare su una dimensione unitaria del suono che sia in grado di fondere e amalgamare i timbri dei differenti strumenti (laptop, chitarra,batteria) in una nuova sintesi rendendo indistinguibili le loro singole "voci": la fonte dei suoni resta sempre dubbia e incerta quando si cerca di isolarla dal "gomitolo" dentro cui è intrecciata.

Ermanno Baron
Di formazione artistica articolata unisce la sensibilità del mondo accademico con la freschezza e la creatività del jazz, arricchita dalla curiosità verso le sperimentazioni della musica elettronica ed elettroacustica dei nostri giorni.
Nell'ambito accademico ha studiato percussioni col M° Giordano Rebecchi facendo parte del suo ensemble di percussioni di muscica contemporanea, eseguendo autori come Edgar Varese, Henry Dixon Cowell, Carlos Chavez, Steve Reich, Ruud Wiener etc.. Nel percorso jazzistico si è diplomato all'International Jazz Master (INJAM) dove ha incontrato maestri come Billy Hart, Eric Harland, Tim Berne, Kenny Werner, John Riley, Jeff Ballard, Anders Jormin, Franco D'Andrea…
Il suo continuo sviluppo di una voce personale, lo porta a svolgere un intensa attività concertistica nazionale ed internazionale: Jazz and World music festival (Zimbabwe), Jazz-Pt (Portugal), Tremplin Jazz Avignon (France), Smalls, Blue Note, Barbes, Fat Cat (New York), 12 Points (Dublin), Ankara Caz (Turkey), Visual Jazz, Roma Jazz Fest, Young Jazz in Town,Casa Del Jazz etc etc…
Tra le collaborazioni: Antonello Salis, Frank Tiberi, Marcello Allulli, Ada Montellanico, Giovanni Falzone, Gianni Gebbia, Francesco Bearzatti, Shane Endsley, Francesco Diodati, Roberto Bellatalla, Francesco Bigoni, Marco Colonna, Ohad Talmor, Nicola Guazzaloca, Brad Shepik, David Binney, Fabrizio Bosso, Francesco Negro, Ludovica Manzo, Eugenio Colombo, Gianni Trovalusci, Alipio Carvahlo Neto, Enrico Zanisi, Marco Bonini, Ginomaria Boschi, Henry Cook, Achille Succi, Danilo Gallo, Luca Venitucci, Fabrizio Spera, Paolo Porta, Beppe Scardino, Elio Martusciello, Dan Kinzelman, Carlo Conti, Javier Moreno Sanchez, Danielle di Majo, Marcello Giannini, Tony Cattano…
Ginomaria Boschi
La sua attività musicale si muove in ambiti disparati e contaminati: l'improvvisazione jazz , la musica contemporanea, l'elettronica.
Diplomatosi con il massimo dei voti al Conservatorio di Santa Cecilia di Roma ha studiato musica classica e jazz. Nel corso degli anni ha partecipato al festival di musica "Contemporanea" presso l'Auditorium Parco della musica di Roma, eseguendo musiche di Philip Glass, Glenn Branca, Rhys Chatam; al Guitfest ( festival internazionale di chitarra di Santa Cecilia) eseguendo le musiche di Steve Reich, Sylvano Bussotti, Franco Sbacco, Igor Stravinsky; è membro attivo del collettivo di improvvisatori Franco Ferguson con il quale organizza sedute di improvvisazione e rassegne di concerti.
Ha frequentato numerose masterclasses internazionali di jazz (Kurt Rosenwinkel, Sylvain Luc, Adam Rogers…), musica barocca (Rolf Lislevand), musica contemporanea (Magnus Anderson, Arturo Tallini,Dušan Bogdanović) e canto armonico (Andrea Simone). Miglior musicista nel 2006 al Jazz's cool di Roma. Primo premio al Lucca Jazz festival nel 2009.
Marco "uBiK" Bonini
è chitarrista e compositore elettroacustico nato a Roma nel 1981. Nei primi anni del 2000 è attivo e incide con formazioni avant-jazz come i JUJU QUARTET , ha la fortuna di collaborare e incidere dischi con ROBERTO GATTO ( Traps-Cam Jazz 2007) ed ETTORE FIORAVANTI ( Le vie del pane e del fuoco-Note Sonanti 2011) , attualmente è impegnato nel progetto MAMAVEGAS, indie-folk band che inicide per 42 Records, nel suo progetto solitario di ambientazione drone-ambient uBiK ( Farmacia901) e come improvvisatore timbrico nel trio ACRE.