Press
Unexpected Variations
(Creative Sources Recordings)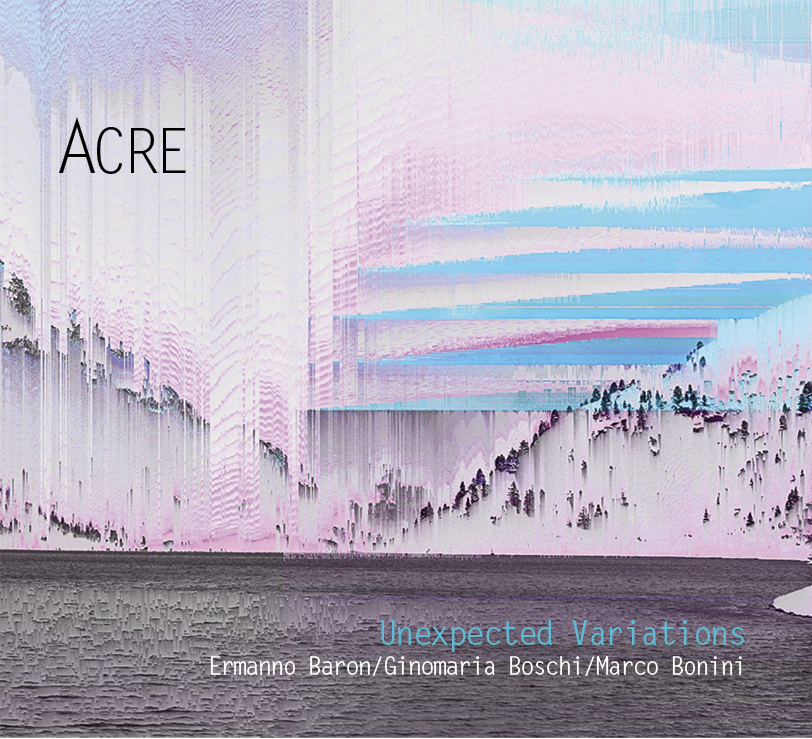 Registrato nel gennaio del 2016 al Cinema Palazzo di Roma (al festival Circuiterie), Unexpected Variations contiene un'epitome dell'impro radicale del trio di Ermanno Baron (percussioni), Ginomaria Boschi (chitarra), Marco Bonini (laptop, live electronics).
C'è grande padronanza del flusso sonoro: un "mono no aware" che gli improvvisatori raggiungono solo dopo molta pratica. Per amanti di AMM.
Andrea Prevignano
Sulle derive si fonda anche una parte dell'attività musicale di Ermanno Baron. Torna con il suo progetto Acre (vedi qui la recensione di Megasound, primo cd), dal titolo Unexpected variations: registrato per la benemerita Creative Source R., è il trasferimento in cd di un live effettuato al Circuiterie Festival di Roma nel gennaio 2016. Una suite in cinque parti, la cui titolazione è la durata delle parti stesse, vi consegna uno dei più intriganti trii dell'improvvisazione trasversale italiana, quando per trasversale indichiamo anche l'elemento elettroacustico o contemporaneo (sempre Boschi alle chitarre preparate e Bonini al laptop e tastierine sintetiche); il progetto dimostra di spostarsi sempre più verso il suono e le sue caratteristiche, con un attenzione maggiore alle catarsi provocate dalle agglomerazioni non convenzionali. Baron e partners le hanno chiamate anche studi sulla massa e sui volumi, quando hanno offerto registrazioni private in modo estemporaneo; Unexpected variations difatti non seleziona, ma funziona in senso accrescitivo; è un percorso timbrico ricercato, che va a cercare relazioni in un settore che la musica contemporanea ha battutto molto a fondo. Seppur totalmente improvvisato, i tre musicisti sanno benissimo quali sono le manovre e i punti da sollecitare per raggiungere il coinvolgimento: la musica ha una sua logica ed una sua modernità, poichè va in fondo al quel fitto mistero del futuro che non riusciamo a comprendere e rispetta molti dei canoni accrescitivi della migliore musica elettroacustica oggi in circolazione; ognuno mantiene intatta la sindrome del momento improvvisativo, e in questo spettacolo di variazioni, è frequente che la chitarra acquisisca le sembianze di un steelpan o la parte elettronico-digitale crei mostri polifonici che funzionano per reminiscenze (drone music, la musica elettronica pre-informatica, l'aggressività psicologica di un Hendrix). L'adattamento percussivo di Baron si compone su un certo tipo di sfregamento o contraccolpo delle parti della batteria, nell'ambito di una sistemazione arbitraria di oggetti sui rullanti e tamburi, che fa pensare alla lungimiranza dell'eredità di Varese. Ma per fare tutto questo ci vuole talento, pazienza nella creazione dei conglomerati sonori e sensibilità, qualità primarie che qui trovate certamente.
Ettore Garzia
I tre Acre hanno trovato in Portogallo una produzione coerente con la propria poetica creativa. In realtà la musica d'arte che sfugge ad ogni incasellamento non trova nel nostro paese facili spazi di produzione e promozione. Basta ascoltare i primi minuti dei cinque quadri di "Unexpected Variations" per capire di trovarsi in pieno territorio di ricerca sganciata da etichette, teatro sonoro dove strumenti tradizionali, oggetti, rumore e visioni digitali si muovono come personaggi che vagano alla ricerca di qualcosa in un work in progress di rara tensione. La gestione collettiva dell'aspetto improvvisativo non si rifugia mai in facile effettistica, la materia sonora ribolle costante con punte parossistiche, pochi silenzi, immersioni in magici labirinti estranianti. I tre Acre, cosa rara, si sanno ascoltare, propongono, si rispondono, si allontanano, si avvicinano, si scontrano. Movimenti e pensieri macchiati da retrogusto post-rock, psichedelico, free jazz, contemporaneità richiamata dalla chitarra di Boschi non solo preparata (filosofia cageana?) ma smontata e allontanata da un suo uso tradizionale. Mentre il drumming di Baron tellurico quanto sofisticato nella ricerca del suono garantisce fondali cangianti e il live electronics di Bonini espande a dismisura gli orizzonti di una musica che fa pensare.
Paolo Carradori
Il trio composto da Ermanno Baron (batteria/oggetti), Ginomaria Boschi (chitarra/effetti) e Marco Bonini aka uBIK (laptop/nastri e theremin), ripreso dal vivo durante un live romano del 2016 organizzato dal collettivo artistico Circuiterie al Nuovo Cinema Palazzo.
Materia viva inclusiva dello spazio circostante, risonanze ed ematomi compresi, che si mostra come allucinazione soundtrack in dronante disosso. Metalli di corde in alienazione etno, circolarità in frattura ritmica di matrice free, cortocircuiti e giochi di specchi digitali (traumatizzati/deformanti) in tempo reale. Nastri che sfilano in ornitologico reverse, pulsioni e torsioni di gomme, roba trascinata che raschia.
E poi sibili di frequenze, primitivismi sul rasoio dell'art brut e singolare grazia scultorea esposta (di rugginosa beltà).
Resta un passaggio ambient/pastorale a fluttuar lento in una pozza buia di astri e dell'oggettistica in tumulto discreto, poi tutto collassa e si frantuma. Scalciano (tanto e con gusto).
Marco Carcasi
ACRE
(Megasound Records)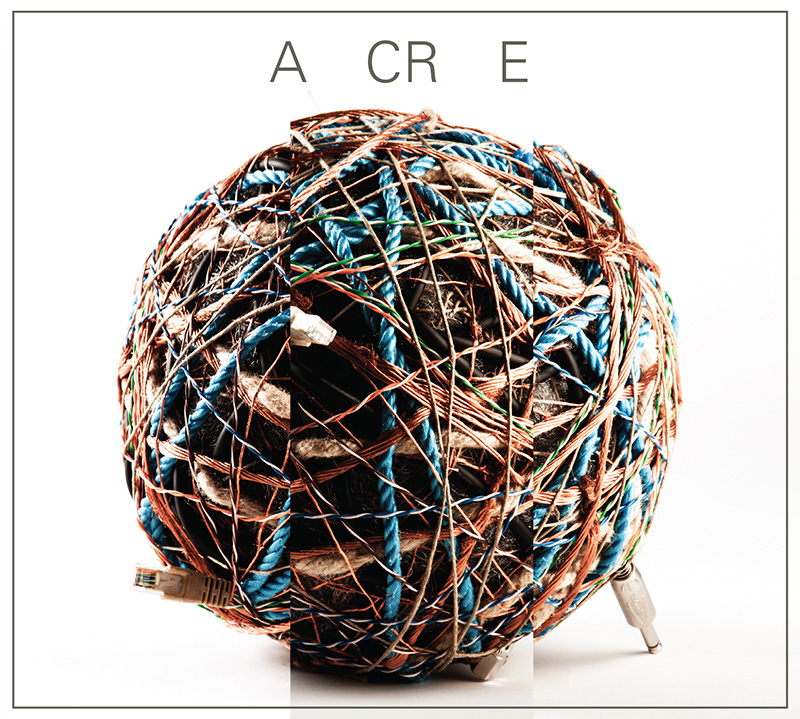 BlowUp
Musica elettroacustica che predilige i chiaroscuri e le zone d'ombra, collocabile fra il suono spurio dei Supersilent(Bad Cluster) e il post-rock più innovativo degli anni '90, percepibile soprattutto nei passaggi più ritmici/armonici
dell'album (Flaneur, oppure Cab sight seeing). L'incastro fra batteria, sampling e materia digitale è elegante e ben
congeniato (Il Pasto Crudo), alcuni brani assumono uno spiccato carattere cinematico (La Soffitta di Else),
lambiscono la psichedelia (Tunguska) e infine si frammentano in miriadi di tessere sonore iridescenti (Merry Go Round)
come se le composizioni di Morton Subotnick si fossero prestate al free-rock più destrutturato.
Esordio maturo ed equilibrato, dall'identità già ben definita.

Massimiliano Busti
Percorsi Musicali
"A cr e" sfrutta la sindrome improvvisativa per stabilire una propria teologia dei suoni in cui ognuno dei tre strumentisti libera il suo potenziale implicito e cerca convergenze: la bellezza di questo cd sta nella contrapposizione mentale delle immagini create dalle sue componenti musicali. Personalmente ho avvertito un concetto contrario a quello ricercato dal gruppo, poiché sebbene lo scopo dichiarato dai tre musicisti sia quello di fondere i tre principali strumenti utilizzati (batteria, chitarra, laptop), l'ascolto sembra evidenziare un accostamento, non fusorio, perfettamente funzionale all'originalità e al carattere timbrico del progetto. Ognuno dei tre riporta attraverso la musica una "condizione" dell'anima: vitalità (ossia siamo uomini con i nostri desideri e progetti da esaudire), la realtà sentita in virtuale (constatazione di un vissuto in involucro) e la glacialità dell'odierno (le derive psicologiche della società): mentre Baron incarna con le sue evoluzioni la dinamicità proverbiale della vita, un drumming che rispetta la pratica improvvisativa del jazz ma è in totale assenza di regole ritmiche, Boschi contrappone note disparate, dolenti e sognanti, imbrigliate in una visione esterna degli eventi; così le impietose infiltrazioni elettroniche di Bonini sono l'essenza più difficile, la raccolta delle macerie della società. "Tunguska" è sontuosa, compete con le migliori espressioni del jazz improvvisativo nordico, "Il pasto crudo" è techno jazz intellettuale, "..l'assalse il sovvenir" vi manda in orbita, "Nachtraglich" sembra un aggiornamento musicale dell'urlo di Munch, mentre la finale "Delle multe crepe" potrebbe costituire la chiave di volta della musica del gruppo per come l'ho descritta. Un lavoro affascinante, resa ad alti livelli.
Ettore Garzia
Rumore                     
Acre primo ed omonimo titolo per il trio romano di Gino Maria Boschi (chitarra), Marco "uBik" Bonini (laptop),
Ermanno Baron (batteria), è una delle cose più interessanti uscite ultimamente nel mondo dell'improvvisazione
radicale italiana e non solo. Il dialogo a tre è frutto di una buona intesa, ben affinata dal vivo, dove live
electronics servono da sfondo sonoro a un impro free-avant di ottimo livello, come testimonia uno dei brani
più riusciti del lavoro, Bad Cluster, nel quale i bleep e gli sheet elettronici di Bonini guidano il discorso
frammentato e rabbioso di Boschi e Baron. Rispetto ad esperienze simili, Acre ha un suo intimo lirismo:
si ascoltino il quasi "cinematic" Flaneur e l'assalse il sovvenir, tra bruitismo e postrock. Da riporre a fianco di
Strafuckers, Lendormin e Ossatura.
Andrea Prevignano
Soundcontest
Quando cadono in mani accorte e preparate, elettroacustica e improvvisazione possono lasciare campo a forme vivaci e accessibili anche nei loro processi più arditi. Là dove spesso ad attenderci sono sensazioni di tedio e monotonia, prassi rumoristiche o isolazioniste fini a se stesse, un disco come "ACRE" c'insegna e avverte che non bisogna mai fare di tutta l'erba un fascio. Qui c'è ritmo ed energia, varietà di modelli e soluzioni che aprono il varco a una multimedialità "mentale" fatta di suoni, immagini, luoghi e soprattutto nuove sensazioni.
"ACRE" vede alleate per un preciso scopo le capacità creative di tre giovani musicisti della scena romana molto attivi e affermati
http://www.soundcontest.com/recensioni/ermanno-baron-gino-maria-boschi-marco-ubik-bonini-acre-review-by-olindo-fortino/
for the complete review
Olindo Fortino
Romasuona
"Intanto gli ACRE tornano dopo tanti anni di distanza con un piccolo gioiello di improvvisazione che è puro viaggio tra le forme più libere del jazz, musica esoterica e qualche richiamo ambient industrial. Plauso alla Megasound che ha ben pensato di produrre e stampare questo capitolo della formazione romana, autrice di un vero capolavoro che rimanda a certe proposte della Rune Grammofon norvegese"
Gianluca Polverari
Zero
Se c'è una nuova formazione romana da tenere d'occhio, questa risponde al nome di Acre. Schema a tre: batteria (Ermanno Baron), chitarra (Ginomaria Boschi), elettronica (Marco "Ubik" Bonini). Sport praticato: impro-jazz-elettro-acustico. Quindi immaginate come possano essere suonati gli strumenti di cui sopra e quanti "aggeggi" di contorno ognuno di essi possa avere. Da poco è uscito un primo e omonimo album per Megasound: bello. Da altrettanto poco ho avuto la fortuna di vederli durante Terracava e sono rimasto impressionato per tecnica, intensità e "suspense", intesa capacità di tenerti con il fiato sospeso fino all'ultima nota perché non si sa mai cosa può uscire fuori. Prendete bene ossigeno a inizio live quindi, ed educate i polmoni a centellinarlo.
Nicola Gerundino
Jazzconvention
Almeno la curiosità circa la pertinenza di "nomenclatura" degli titoli – assortiti e fantasiosi – ci induce a ragionare preliminarmente se "nomina sint consequentiae rerum" o piuttosto viceversa.
Senza ironie, cosa abbia generato o cosa si celi lungo le lunghezze di L'avvalse il sovvenir, Il pasto crudo, Delle mute crepe e certamente Merry go round è gradualmente svelato da un ascolto abilmente condotto tra freschezza e citazioni, effettistica e viva presenza strumentale, progettualità e aleatorietà, performing cibernetico e progressioni emotive.……
www.jazzconvention.net for the complete review.
Romainjazz
Nell'ambito dell'Occidente musicale i protagonisti della Musica Situazionale sono stati per molti tempo protagonisti di territori di conflitto, dal momento che i loro riferimenti culturali risvegliavano la tacita consapevolezza di quanto la Stasi sonora  fosse divenuta protagonista di fenomeni reiterati e sostanzialmente asciutti. Quella sorta di Dopoguerra estetico è finito da tempo: dopo le disillusioni di Schoenberg e Ligety ha avuto luogo una riflessione diversa, composta su canoni istintuali e riferiti non solo alla Dodecafonia ma anche al Dadaismo e alla Pop Art, all'Ambient Music e al Live Electronics…...
continue on www.romainjazz.it
Gianni della Rossa
sto ascoltando il loro disco. è un lavoro geniale, unico nel suo genere – quale esattamente non lo so, né mi interessa una catalogazione. mi ci ritrovo in sintonia profonda. per qualche ragione ha rievocato in un primo momento le atmosfere emotive di solitudine grandiosa di alcuni miei sogni della primissima infanzia, mai più ritrovate nelle fasi successive della mia vita. per associazioni ignote mi sono poi tornati in mente alcuni quadri di Francis Bacon che pochi anni fa mi trovai a osservare in una sua esposizione a Milano. in un certo senso mi calavano in una dimensione di smarrimento psichico, stupore, curiosità e senso di bellezza aliena, terribile, sganciata dalle convenzioni estetiche consolidate, qualcosa che ritrovo nella loro musica. forse è proprio questo il punto misterioso: uno scardinamento dell'universo emotivo che consente di guardare dentro sé stessi assorbendo e accogliendo il dono delle proprie ombre attraverso l'arte, o almeno certe sue declinazioni: quelle che esplorano coraggiosamente l'ignoto e creano un linguaggio e quindi un mondo interiore nuovi.
———————————————————————————————————————————————————————–